Tuesday June 24th was dad's 52nd Birthday.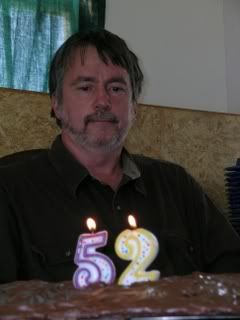 Later Mom and Dad went out to eat at Applebees in Columbia, where unknown to Dad, Mr. and Mrs. Castille were waiting to surprise him.
Also that same night Elise and I went to a horse show and on the way home the horse trailer blew a tire.[It was about 10:30] Elise called Dad and Dad went and got the Stokes horse trailer, we put the horses in the Stokes trailer and brought it all home. Well everything ended up OK and we did get some sleep.