Sunday evening we Celebrated T.J.'s birthday with what has been traditional ever since I can remember (for him anyway)- pizza and dirt cake.
Yes he's an old man now, more than halfway to fifty and I have pictures to prove it.
Okay so you can barely see the candles but they do say "26"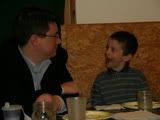 I thought this was a kinda cute picture of the oldest and youngest.
and of course there were presents;
Of course what he really wanted was Final Cut Studio 2, but none of his siblings were willing to cut quite that deeply into our pocket-books.
After the festivities we all sat and listened to T.J. and Dad read short stories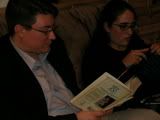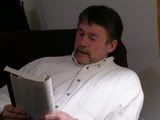 Of course no gathering is complete without everybody's favorite (only) nephew :)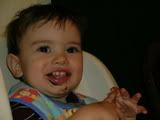 P.S. Sorry the pictures are so small :}